The comet with the unromantic name, Comet 103P/Hartley 2, will be at its closest proximity (11 million miles!) to Earth tomorrow, October 20. I've received questions from readers, wondering what comets mean astrologically. Synchronistically, in the book I am currently (re) reading,
Patterns of the Past
by Judy Hall, I just this week read this passage, which describes a comet's astrological purpose very nicely:
"Rudolf Steiner has said that comets have the function of taking collective psychic debris created by human suffering down through the ages (in other words, karma) out of the solar system. This suffering is the result of soul separation and ignorance of our divine roots."
With all the karmic debris we're currently stirring up through Venus retrograde and so many planets in Scorpio, the idea of a comet coming through to help clear the air energetically is a relief! And, something to be grateful for. Timing is everything.
Here's a photo from SpaceWeather.com today, showing the comet's "vast green atmosphere and an auburn tail of dust":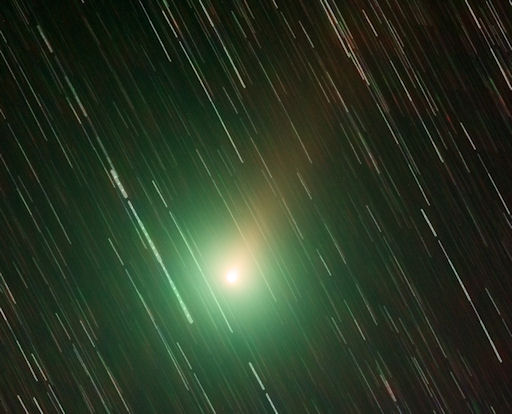 Seeing that our green comet (sounds like an action hero!) will be at closest proximity to Earth tomorrow, this would be a very good time to do some release work of those beliefs and patterns (karma) that have kept us experiencing the more painful sides of life and relationships.
Happy house cleaning!