The auroras that graced Earth's skies this past week were incredible. They appeared much further south than they usually do.
If you were able to see them in person -- how wonderful! If not, here's a link to three pages of photos on the SpaceWeather.com website:
http://spaceweather.com/aurora/gallery_01oct11.htm
Here's one of my favorites (in addition to the one on today's Journal), showing the amazing and unusual red colorations: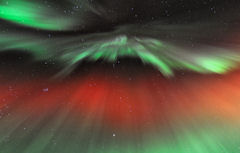 Pretty spectacular, eh?